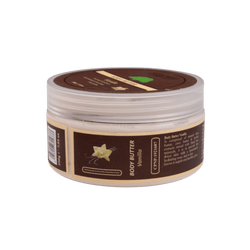 Body Butter Vanilla ( 200 G )
ls comprised of natural Shea butter, coco butter & herbal extracts mixed with Dead Sea minerals, it is to provide the driest skin with a luxuriously hydrating treat, and it also leaves it supple and healthy glow.
How each component work together to get you the perfect results
Dead Sea Water: known for restoring skin balance, it hydrates skin and replenishes it with essential minerals.

Shea Butter: is an excellent natural skin moisturizer for face and body, it reduces wrinkles and fights signs of aging, and restores the skin's elasticity.

Cocoa Seed Butter: has high levels of antioxidants that help repair the skin from sun damage and aging, it also soothes redness and blemishes.

Chamomile Extract: has excellent abilities in neutralizing skin irritants, in addition to its antibacterial hypoallergenic properties that help relieve many skin conditions associated with dry skin.

Aloe Vera Extract: has powerful healing properties proven effective in treating sunburns, and reducing scar visibility, it also works as a moisturizer.

Grapefruit Seed Oil: is highly effective in treating acne and oily skin, it also helps in reducing itching due to its anti-inflammatory properties.

Vitamin E: this fat-soluble vitamin can be absorbed through the skin, it is a beneficial antioxidant that helps in reducing UV and sun damage to the skin.