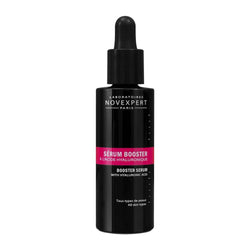 Booster Serum Hyaluronic Acid
3D effect: 4 different molecular weight of hyaluronic acids to act on all layers of the skin.
NOVEXPERT Booster Serum with Hyaluronic Acid contains an ultra high content of Hyaluronic Acid! It is not for nothing that this Booster serum is the top seller of Novexpert worldwide.
Like all other products from Novexpert, it is 100% natural in composition and contains 0% chemicals. In this concentrated and powerful serum is the equivalent of 20 hyaluronic acid injections. It contains 4 different sizes of hyaluronic acid molecules, each with their specific function in the skin. Thanks to the addition of a polysaccharide, the production of procollagen is also stimulated.
The oil-free serum helps reduce wrinkles and has a moisturizing and instantly visible repulp effect on the skin. Ideal as an addition to hyaluronic acid injections or for oily skin that benefits from an oil-free anti-age product.
Mix 2 to 3 drops in the morning and / or evening with your day and / or night care. However, the serum can also be used without cream.