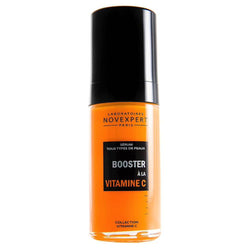 A real vitamin cocktail to consume as much as you want for a smooth skin and a radiant complexion!
- suitable for all skin types, also for sensitive skin
- hypoallergenic
- formula developed by Doctor D. Coletta
NOVEXPERT Booster Serum Vitamin C provides a powerful anti-aging / anti-wrinkle care (collagen booster). It provides radiant skin ('glow') and is preventive against hyperpigmentation. The serum is 100% biodegradable.
This Vitamin C Booster can be applied in the morning and / or evening without any other care or for your day / night cream. Use 1 - 2 pump dosages. The vitamin C is dispensed gradually and dosed and remains active for about 9 hours. This makes this vitamin C serum unique PH skin neutral, so it is also suitable for use before, during and after sunbathing. Thanks to the airy gel structure, the Vitamin C Booster Serum is also the idealion all-in-one care for men!
To achieve an optimal rejuvenating effect the use of a booster in combination with a cream from Novexpert is strongly recommended.