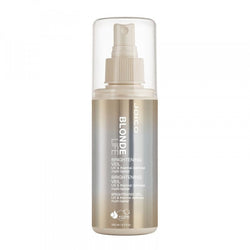 Blonde Life Brightening Veil Spray 150Ml
Blonde Life Brightening Veil from Joico is a multifunctional leave-in protection against heat, discoloration, and UV rays. Fluid that detangles and controls hair frizz.
With several benefits, this product was developed to effectively protect hair with blonde tones, more sensitive to the actions of UVA and UVB rays.
Its formula with exotic fragrance that mixes jasmine, vanilla, nectarine, among others, surpasses most of the competitors, preventing aging and fading, as well as damage to cuticles resulting from daily exposure to UV rays and the use of thermal tools.
Directions For Use:
Apply to clean, damp hair.
Comb. Give your hair the desired shape.