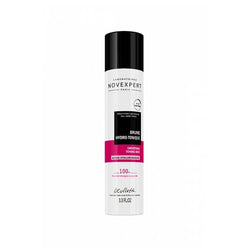 - 1 spray with 3 functions; anti-aging, hydration and protection against environmental pollution
- from 25 years, suitable for all skin types, also for sensitive skin
- hypoallergenic
- formula developed by Doctor D. Coletta
NOVEXPERT Smoothing Toning Mist is the only 100% natural toner without preservatives that also has an anti-aging function. Packed in a handy 100 ml flacon (which is allowed on the plane) you always have the ultimate thirst quencher at hand. Brings instant hydration, fixes make-up and has an anti-pollution function thanks to phytic acid.
Keep the spray 30 cm away from the face, close the eyes and spray 2 to 3 times to cover the entire face. Leave for 15 seconds and then whisk gently. Use in the morning, in the evening and during the day. The fog can also be used after removing make-up, after cleansing the face, before a treatment, to fix and refresh make-up or to calm the skin.