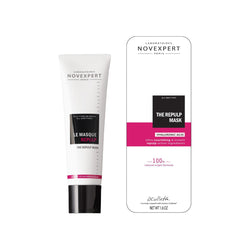 The quintessential SOS treatment, this Mask is the essential skin-pampering step after exposure to the sun or cold, and a touch of magic for plumper skin before an evening out!
- suitable for all skin types from 25 years old

A truly amazing skin care mask that is designed to treat stressed and aging skin, by restoring comfort and re-plumping the skin, resulting in baby-soft complexion in just 10 minutes.
Ultra-high concentration of two pure hyaluronic acids with immediate "lipo-filling" action.
The essential protection for stressed skin: subject to cold, sun, pollution, dryness, etc. A truly amazing skin care that restores comfort to the skin.
Apply a thick layer of mask to thoroughly cleansed and dry face. To adapt the level of nutrients required for your skin, leave on for: - 10 minutes for normal to combination skin - 15 minutes for dry to very dry skin Remove mask with a damp cotton pad or sponge pad or sponge and/or rince abundantly with lukewarm water.
Use twice a week for optimal results. This mask may also be used after exposure to the sun, cold weather, wind and after exercising, as often as needed