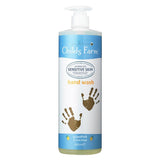 Hand Wash Grapefruit & Organic Tea Tree
Our award-winning grapefruit hand wash is especially formulated for frequent use throughout the day. It cleans away dirt and gets rid of germs, but because it contains organic tea tree oil, it leaves skin moisturised, smooth and hydrated. Suitable for newborns and upwards, dermatologist approved for sensitive and eczema-prone skin.Happy skin means happy kids (and parents too).
Directions
Twist pump to open. Squirt three dollops into hands and rub them together under warm water. If you're doing it properly, it should take you as long to wash your hands as it does to sing Humpty Dumpty! Afterwards, dry hands thoroughly on a clean, dry towel.
FOR EXTERNAL USE ONLY. If the product gets into eyes rinse well with water. If irritation occurs, rinse with copious amounts of water. If irritation continues, stop use.