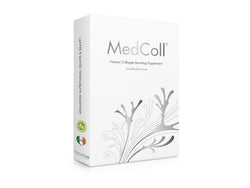 MedColl is a scientifically proven nutri-cosmetic skincare therapy in a daily capsule which works from the inside out and it activates your body to secrete its own natural collagen throughout the body, It is a natural anti-ageing skin supplement to help increase the skin`s collagen and hyaluronan levels .
عملت بالتعاون مع مركز البحوث الطبية الأيرلاندي ومعهد كونواي من للعلوم البيلوجية والجزيئية والعلوم الطبية الحيوية، UCD كهيئة حكومية في مجال البحث العلمي وتطوير مفهوم "الكولاجين الذاتي" وهي التركيبة الاستثنائية، التي تساعد الجسم في إعادة إفراز الكولاجين الطبيعي إلى حد كبير، كما الأكثر أمانا والأكثر فعالية لمساعدة الجسم على إفراز الكولاجين الطبيعي بدلا من الحقن أو اللجوء غلى الكولاجين الجراحي أو الأغراق في النظام الجلاتيني .
وهذا ما يجعل مكمل MedColl فعالاً بصفة خاصة وبديلاً طبيعياً خالصاً للعمليات الجراحية التجميلية والمواد المالئة!
ميدكول المثبت علمياً فعاليته كعلاج غذائي تجميلي للبشرة يوجد على شكل كبسولة يومية تعمل من الداخل للخارج و هو يحفز الجسم على إفراز الكولاجين الطبيعي ومضاد طبيعي لعلامات تقدم البشرة والذي يمكن استخدامه لزيادة
نسبة الكولاجين وحمض الهيالورونيك
Benefits
Helps correct the appearance of fine lines, expression lines, wrinkles and firms the skin
Immediately hydrates the skin and improves skin's texture for a brighter, more radiant complexion
Optimises the skin's cell renewal, cell turnover and collagen formation
Delivers antioxidant protection against damage from sun exposure, pollutants and oxidative stress by free radicals
Take two Capsules a day with or without food
MEDCOLL Derma Marine Collagen pre-cursor Complex 500 mg, Alpha Lipoic Acid 100 mg, Astaxanthin 100 mcg, Vitamin C (Ascorbic Acid) 250 mg, Vitamin E 20mg, Lycopene 1.5 mg, Coenzyme Q10 10 mg