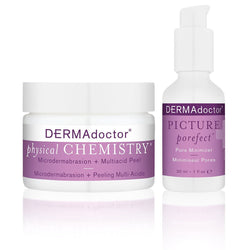 Picture Porefect
Picture Porefect quickly helps refine and improve the appearance of enlarged pores. This lightweight formulation targets enlarged pores at the source rather than simply covering them up.
Helps decongest clogged pores, mattify and purify oily skin. Pore perfecting primer helps skin look flawless and creates the perfect canvas for make-up.

Physical Chemistry
An intensive exfoliating treatment for a clinical at-home chemical peel and microdermabrasion session in one.
Dr. Audrey recognized that true dermatologic surface skin exfoliation required the simultaneous action of dissolving the "glue" that holds epidermal cells together plus the breaking of bonds which act as virtual anchors between the cells.
She developed this multifunctional comprehensive treatment which uses both chemical and physical exfoliation blended in a calming, hydrating base to dramatically reveal smoother, softer, brighter, healthier appearing skin
Picture Porefect
After cleansing, apply to dry face twice daily for optimal results. Follow with moisturizer and sunscreen. Avoid contact with eyes.
Physical Chemistry
Apply a small amount to dry skin and gently massage with fingertips. Rinse and pat dry. Follow with treatments, moisturizer, or cosmetics as desired. Use once or twice a week as tolerated or recommended by your physician. Store at room temperature 59-86ºF / 15-30ºC.