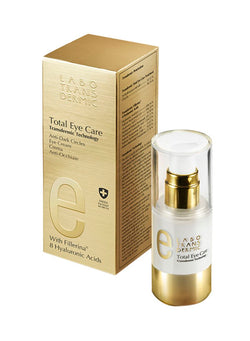 Anti-Dark Circles Eye Cream
For the eyes area, Labo Transdermic offers exclusive preparations that are particularly effective for the most frequent needs regarding eye contour, i.e. crow's feet, dropping eyelids, puffy eyes and dark circles. Lightening Transdermic Care for Periorbital Dark Circles. N-Hydroxysuccinimide and Chrysin activate the removal of blood-originated pigments (bilirubin and iron), responsible for dark circles in the periorbital area.


How to use

Smooth a small amount of Anti-Dark Circles Eye Cream on the areas affected by dark shades in the lower part of the eyes.
Tap gently with fingers until complete absorption. The pale colour of the Cream has the immediate effect of reducing the presence of eye dark circles.