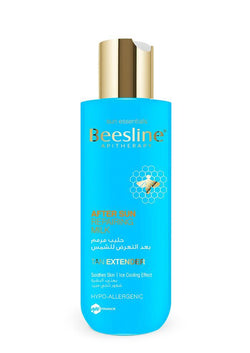 After Sun Repairing Milk 200Ml
100% vegetal repairing milk rich in natural active ingredients, it:
Provides an ice cool effect after sun exposure
Heals & moisturizes sun damaged skin providing a supple & high-comfort feel
Soothes redness, nourishes & regenerates skin tissues
Prevents peeling thus extending your bronze tan
Apply generously after sun exposure all over the body & face. Massage until absorption. Regular application after sun exposure effectively increases the skin moisture level.
Beeswax, Almond Oil, Shea Butter, Aloe Vera Leaf Juice, Pumpkin Juice, Nigella Seed Oil, Carrot Extract, Royal Jelly, Peppermint Oil, Pro-Vitamin B5 & Vitamin E.