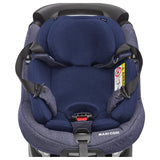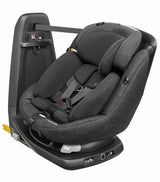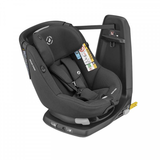 Features:
360° seat rotation to facilitate baby installation
Simultaneous safety harness & headrest adjustment
Central selection dashboard to easily switch from rearward to forward-facing mode
Height indicator: shows when to switch from rearward to forward-facing
2 smart belt hooks: facilitate child installation by maintaining the harness wide open
One-hand harness adjuster
Washable cover
Cozy enveloping inlay: to ensure newborn babies top safety and comfort up to approx. 4 months (61 cm)
7 position headrest adjustment: always perfect fit for the growing child
4 reclining positions in both ways: to ensure comfortable traveling
Very comfortable and padded with enhanced comfort of the seat, backrest & headrest
Shoulder, belt and crotch pads
Rearward-facing from 45 to 87 cm (birth to approx. 2 years)
Forward-facing from 76 to 105 cm (>15m to approx. 4 years)
Compact design to fit small cars
Made in Europe
The Maxi-Cosi AxissFix Plus is a baby & toddler car seat which offers top safety and the convenience of the 360° rotation, from birth up to 4 years. The AxissFix Plus combines top safety performance, by complying with the latest i-Size car seat regulation (R129), and 360° rotation to offer you the best ease of use ever! The ISOFIX system enables a very easy and safe car seat installation, and the seat offers rear-facing travel up to approx. 2years (87 cm) to enhance head & neck protection. On top of it, AxissFix Plus grows with your child from birth (45 cm) with its cozy enveloping inlay, up to 4 years (105 cm). It will take only a few seconds to secure your child facing you, and switch from rearward- to forward-facing in just a seat rotation.
Overview:
Product Dimensions: 44.5 x 71 x 65 cm
Package Dimensions: 51 x 43 x 40 cm
Weight: 12.45KG
Shipping Weight: 14.2KG
Recommended Age: Suitable for 0-4 years