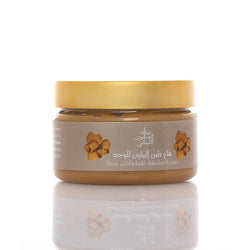 Beyloun Clay Facial Mask 300G
Rich in Beyloun Clay, Royal Jelly and Rose, This Mask helps Soothing, Smoothing and Brightening your skin giving it a healthy radiance. Use: twice a week after Beyloun Clay Facial Scrub. Apply a thick layer all over the face and neck, avoid eye contour. Leave it for 20 mns then rinse it off with warm water.
هذا القناع الغني بطين البيلون, الغذاء الملكي و الورد, يعطي البشرة إشراقا مميزا و يساعد في تفتيحها و ترطيبها. الاستعمال:مرتين في الأسبوع بعد سنفرة طين البيلون للوجه. توضع كمية منه على الوجه و الرقبة مع تجنب منطقة العينين. يترك ل 20 دقيقة ثم يغسل بالماء الفاتر.