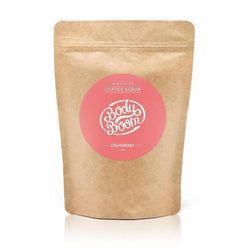 Bodyboom Strawberry 200 G
Body Boom Strawberry Coffee scrub is recommended for all skin types, especially dry and thin. It is suitable for use 2-3 times a week. The scrub has a sweet strawberry scent with moisturizing and smoothing properties. The Body Boom coffee scrub formula is made of natural, non-allergenic ingredients.
Exfoliates the skin
Deeply moisturizes the skin
Improves the skin tone
Smoothens and softens
Reduces the cellulite and stretch marks appearance
Body Boom Strawberry Coffee scrub contains Robusta coffee beans, which exfoliate and smoothen the skin. They reduce the cellulite appearance and delay the skin aging process. The brown sugar contributes in exfoliating the skin, it also prevents from loss of hydration. Additionally, the chocolate rich in cocoa butter deeply moisturizes and softens the skin. It neutralizes free radicals and improve the skin flexibility.
: Apply the body scrub on wet skin and massage it in circular motions. Leave for 5-10 minutes and rinse thoroughly.