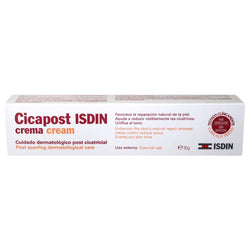 Isdin cicapost cream is indicated for post-scar cutaneous area. It helps to lessen and repair the damage done by acne by turning out events skin tone. Scars can leave unsightly marks on our skin. It is even worse when the scars are perfectly visible and generate complexes and shyness. Fortunately, some products help to remove them from our epidermis.
Helps to repair scar tissue
Improving skin elasticity
It helps to mitigate pigmentation and itchiness
Also strengthens the barrier action of the skin
Apply 3 times a day to cleansed skin.
Lightly massaging until completely absorb.
Do not apply to open wounds.