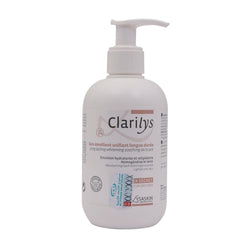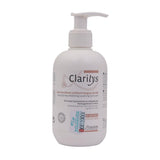 Clarilys is intense depigmenting agent that assists bleaching of brown spots on the skin. Effective operation of this product is due to the active ingredients, a combination that significantly reduces the production of melanin, responsible for dark spots on the skin.
The product has a triple action:
- Alpha Arbutinat blocks the biosynthesis of melanin in the epidermis. Beta Arbutinat blocks the action of tyrosine thereby also reducing the production of melanin. Vitamin C reduces the level of melanin and blocks the process of oxidation.
- Thanks to the patented active ingredient Urodium which is a combination of urea and 3% sodium chloride, depigmenting ingredients penetrate deeply and thus their effectiveness is significantly increased. Sodium chloride ions prevent crystallization of urea and thus enhance the effect thereof
- 3% Urea and A. N. A. 6% - extra exfoliating ingredients act to remove the most pigmented skin areas.
Clarilys has light and delicate texture, is quickly absorbed by the skin and is extremely pleasant to apply. It is specially designed for skin with brown spots and pigmentation disorders, penetrates deeply and leaves skin refreshed, silky and without spots.
Indications: For bleaching brown spots on the skin and abnormal pigmentation.