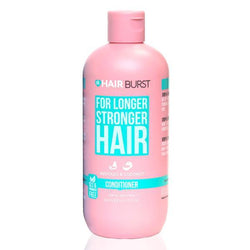 Conditioner For All Hairs
The Hairburst shampoo and conditioner set is perfect for achieving longer stronger and healthier hair. Specially formulated to give optimum results whilst washing, achieving your hair goals is easier than ever.

SLS and paraben free, our Shampoo & Conditioner will supercharge your hair growth for maximum length in minimal time while the wheat proteins will strengthen your hair, reduce breakage and is perfectly safe for everyday use. Your hair routine has never been easier and the delicious scent of coconut an avocado is sure to boost your mood as well.
For the best results, we do however recommend using the set together.
يعتبر شامبو وبلسم هيربرست تركيبة مثالية للحصول على شعر أقوى وأكثر طولاً وصحّة.
صُنِع خصيصاً لتحقيق نتائج مثالية أثناء غسل الشعر، بحيث يكون تحقيق هدفك أسهل من أي وقت مضى.
لا يحتويان على سلفات لورات الصوديوم والبارابين، ويعملان على زيادة نمو الشعر وتطويله في أقل وقت ممكن، في حين أنّ بروتين القمح المحلل يقوي الشعر ويقلل من تقصفه ويعدّ آمناً للاستخدام اليومي. يصبح روتين الحفاظ على شعرك أسهل من أي وقت مضى، ومن المؤكد أنّ الرائحة اللذيذة لجوز الهند والأفوكادو ستعزز من مزاجك أيضاً.
يجب استخدام شامبو وبلسم هيربرست سوياً للحصول على أفضل النتائج.
Brushing your hair before taking a shower helps undo any tangles and makes the shampooing and conditioning process easier. This also reduces breakages. Remember to use a wide tooth comb to loose less hairs in the shower. After you have washed and conditioned your hair, remember to rinse it with cold water to get the effect of shiny hair. Shampoo works best on soaking wet hair and conditioner works best on gently squeezed-out hair.
مشطي شعرك بالفرشاة قبل الاستحمام لكي يساعدك على تفكيك أي تشابك في الشعر مما يجعل وصول الشامبو والبلسم للشعر أسهل، كما يقلل هذا من تقصيف الشعر. تذكري أن تستخدمي مشط واسع الأسنان للحدّ من الشعر المتساقط أثناء الاستحمام. بعد استخدام الشامبو والبلسم، يجب شطف الشعر بالماء البارد للحصول على شعر لامع. يعمل الشامبو بشكل أفضل على الشعر المبلل تماماً، ويعمل البلسم بشكل أفضل على الشعر الرطب.
Aqua (Water), Ammonium Lauryl Sulfate, Cocamidopropyl Betaine, Glycerin, Sodium Chloride, Sodium Lauroyl Sarcosinate, Hydrolyzed Wheat Protein, Coco-Glucoside, Sodium Benzoate, Polyquaternium-22, Citric Acid, Glycol Distearate, Panthenol, Parfum (Fragrance), Myristamide DIPA, Hydroxypropyl Guar Hydroxypropyltrimonium Chloride, Sodium PCA, Sodium Lactate, Disodium EDTA, Arginine, Aspartic Acid, PCA, Tocopheryl Acetate, Glycine, Alanine, Serine, Valine, Isoleucine, Proline, Threonine, Histidine, Phenylalanine, Amyl Cinnamal, Coumarin.
Suitable for all hair types