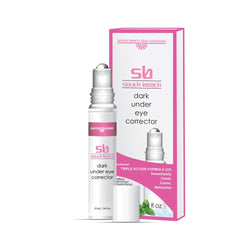 Triple Action Formula instantly cools, calms and refreshes tired, puffy eyes. Unique metal roller ball applicator! Dermatologist tested.
Suffering from puffy, dark bags under your eyes? South Beach Skin Solutions™ Dark Under Eye Corrector is the ultimate product to help safely and effectively reduce the appearance of dark discolorations and puffiness under the eyes. It is perfect for anyone suffering from dark circles, dryness or tired looking puffy bags under the eyes. An exclusive blend of natural extracts combine in our Triple Action Formula (3X). Keep one at home and one in your bag for on the go. A perfect pick up when you need to feel refreshed.
Unlike cheap drug store skin lighteners or bogus imitators, our specially-formulated product is very gentle and does not contain any potentially harmful or irritating chemicals such as Kojic Acid, Hydroquinone or Mercury. Who would put that on a sensitive area! Packaged in a convenient METAL mini roller ball for easy application.
Features:
Metal Roller Ball applicator for instant cooling.

Caffeine to help reduce inflammation, smooth and tone.

Mint and Cucumber Extracts for cooling and refreshing.

Licorice Extract to help inhibit melanin, reduce pigmentation and scavenge free radicals.

Vitamin C to help exfoliate, strengthen blood vessels and brighten.

Horse Chestnut Extract to help strengthen blood vessels and capillaries.

Almond Oil to moisturize and help without clogging pores.

Rosemary Extract to help improve circulation and as an anti-oxidant.
How to use:
Shake well. For best results, use twice daily (morning and evening). Using the rollerball, gently apply a small amount under the eye area. Use finger to massage in until fully absorbed. Repeat as desired to refresh.