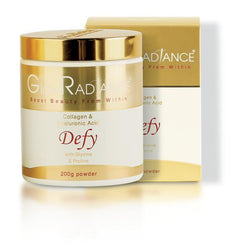 Your skin will look visibly brighter, smoother and fairer in just four weeks, and continue to improve over time. Reduces the appearance of hyperpigmentation
ستبدو بشرتك أكثر إشراقاً وأفتح وأكثر نعومة خلال أربعة أسابيع فقط، وستستمر في التحسن بمرور الوقت. كما يعمل على التقليل من ظهور فرط التصبغ.
يعتبر هذا المسحوق من جلوراديانس مسحوقاً فعّالاً لمكافحة الشيخوخة، يعمل على تحسين مظهرك وتقوية بشرتك. كما يعمل مثل تنظيف البشرة المنعش، بحيث يترك بشرتك ناعمة الملمس.
- يقلل التجاعيد ويزيد من ليونة البشرة، حيث يحتوي على نسبة عالية من الكولاجين المهدرج وحمض أميني عالي وحمض الهيالورونيك.
ملائم لـ: - البشرة الباهتة والغير حيوية - البشرة المترهلة والتي تعاني من الشيخوخة - التجاعيد الرفيعة والعميقة - ما بعد البوتوكس والفيلر - البشرة الجافة - منع التجاعيد - جزء من نظام العناية اليومية بالبشرة.
آثار خلاصة بذور العنب: تقليل التجاعيد (العمق والطول) - تحسين ليونة البشرة - منع التجاعيد العميقة
المواصفات: - تركيز عالٍ من الكولاجين المهدرج (5000 ملغم / جرعة)
Dissolve a scoop of powder (5 grams) into water, milk or juice after meal once daily, Tasteless -Dissolves easy therefore fast absorption.

يُذوّب سكوب من المسحوق (5 غرامات) في الماء أو الحليب أو العصير بعد الوجبة مرة واحدة يومياً، ليس له طعم - ويذوّب بسهولة لذا يتم امتصاصه بسرعة.