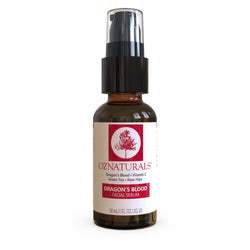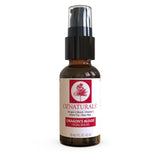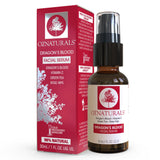 Dragon's Blood Facial Serum
Named Dragon's Blood for its rich red hue found deep in the Amazon Rainforest, this remarkable antioxidant delivers a wide range of skin care benefits. Now you can access the power of this highly efficacious, natural ingredient to take your skin to a totally new level.
Key Ingredients:

 

Dragon's Blood, Vitamin C, Green Tea, Rose Hips
OZNaturals® Dragon's Blood Facial Serum combines a variety of powerful antioxidants with Dragon's Blood to help protect, heal and soothe distressed skin. Ideal for skin compromised by sun exposure, breakouts, skin disorders or over exfoliation, this serum's anti-inflammatory compounds deliver so many benefits, including:
• Reduction of redness and swelling
• Aiding in the repair of collagen
• Helping to restore skin tissue such as scarring, hyperpigmentation and skin tags
• Clearing skin blemishes
• Soothing skin conditions such as rosacea, eczema and psoriasis
• Rejuvenating skin back to a more youthful, glowing appearance
From anti-aging to acne, this multitasking serum will quickly become one of your favorite tools for achieving a more youthful, clearer and overall brighter complexion.
Best when used as a part of a complete OZNaturals regimen. Regular exfoliation using OZNaturals Bamboo Enzyme Facial Scrub is key for the proper absorption and performance of this product. Beneficial for all skin types, especially those with acne, eczema, psoriasis, dermatitis, rosacea, skin tags, hyperpigmentation, and fine lines and wrinkles, just to name a few. It can be worn under makeup.
STEP 1 : Cleanse, exfoliate, and tone skin.

STEP 2 : 

Apply Dragon's Blood Serum to entire face, neck and décolleté, and allow to absorb for several minutes.

STEP 3 : Apply OZNaturals® moisturizer.