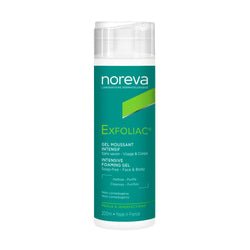 Exfoliac Foaming Gel 200ml
Daily hygiene to target blemishes for oily skins. Gently cleanses. Cleanses the epidermis. Regulates the secretion of sebum.

With a pH suitable for the skin, it respects the balance of the skin and is also suitable for skin that is often irritated by normal skin treatments.
Refreshes the skin and cleans it deep into the pores, 

without the production of sebum again to stimulate

Promotes exfoliation of the corneous cells 

favors the penetration of zinc into the hair follicles