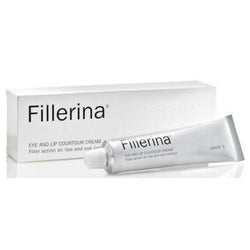 Eye And Lip Contour Cream- Grade 3
is a dermo-cosmetic daily filler treatment to be applied morning and evening around the eyes and/ or lips. It is a moisturizing and nourishing eye and lips contour cream that can be used alone or together with other Fillerina treatments.
هو مستحضر للعلاج اليومي فعّال في ملء البشرة، يوضع صباحاً ومساءً حول العيون و/أو الشفاه، وهو كريم مرطب ومغذي يستخدم بمفرده أو مع مستحضرات Fillerina الأخرى.
Apply morning and evening by gently dabbing onto eye and lip contour.
استخدمي الكريم يومياً كل صباح ومساء عن طريق التربيت بلطف حول محيط العين والشفاه.
Hyaluronic acid 1000Da- Hydrolyzed Sodium Hyaluronate 5000 Da- Hydrolyzed Hyaluronic Acid 50,000 Da- Sodium Hyaluronate 200,000 Da- Sodium Hyaluronate 2,000,000 Da- Sodium Hyaluronate Crosspolymer reticulated