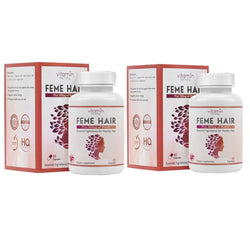 Feme Hair Vitamins Capsules - Pack of 2
Expected back in Stock : 2 Months 
Delivery in UAE : 1-2 Days
Delivery Outside UAE : 2-4 Days
Flat Delivery Rate Outside UAE
2 Boxes Of Feme Hair Vitamins Capsules 60 
What is FEME HAIR for?
Helps to nourish the hair follicle and provide thickness and strength to the hair.

Reduce hair loss after diet, stress, anxiety and pregnancy or heavy periods.

Provide essential minerals, vitamins and amino acids for hair and nails.
Why is FEME HAIR Perfect for hair?
According to most of studies, FEME HAIR active ingradients are vital to maintain and grow the hair from roots, FEME HAIR contain; Vitamin D3, L-Cysteine, L-Methionine, Silica, Iron and Zinc, Vitamin C, Biotin, Zinc, copper and selenium.
Daily dose is 2 capsules. Its recommended to take 1 capsule after meal, twice a day. Do not exceed daily dose unless advised by qualified person or doctor. FEME HAIR is dietary supplement and should not be used as a substitute for varied diet. Positive improvement of the hair usually noticed only after 4 weeks, and full result can be noticed after 3 months.