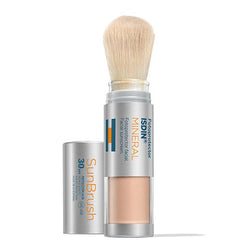 Fotoprotector Sunbrush Mineral Spf 30
The suncare product you'll carry with you 365 days a year
SunBrush Mineral provides broad-spectrum UVA/UVB SPF30 protection and 100% mineral filters. 
Its ultra light texture lets your skin breathe and, since it does not have any tint, it adapts to any skin tone. 
Easy to apply and portable so you can take it anywhere. 
Can be applied over makeup. 
With antipollution active ingredients that protect skin against air contamination
- Broad-spectrum protection UVA/UVB SPF 30
- 100% mineral filters
- No color, adapts to any skin tone
- Highly water resistant
- Easy to apply and portable so you can take it anywhere
- Can be applied over makeup
- With antipollution active ingredients that protect skin against air contamination
How do you use SunBrush Mineral?
1. Push the clear lid down, remove the rubber band and gently rub the brush on the back of your hand in circular movements until the minerals begin to flow.
Advice: Before applying it on your face, tap the brush twice on the back of your hand to get rid of any excess of powder.
2. Move the brush with in a circular motion to make sure the product comes out properly.
3. Apply the brush generously and evenly all over your face and exposed areas (neck, chest and backs of hands).
4. Use the product over dry skin before sun exposure and reapply as often as necessary, at least every 2 hours.
Can be applied over makeup. Don't dampen the brush, as the powder could get wet.
Dermatologically tested. Suitable for atopic skin. Hypoallergenic. Non-comedogenic. Water resistant. Biodegradable