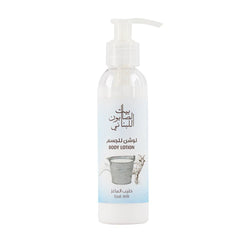 Body Lotion Goat Milk 150Ml
Goat Milk is well Known for its Richness in Fatty acids and Triglycerides which are less irritated to the Skin or Hair, in Vitamin A which is the most important Vitamin for Skin and Hair Health and in Lactic acid which has hydrating and brightening effect. Rich in natural Almond and Grape Seeds Oils, it has Moisturizing, skin Soothing and Softening properties. 

How To Use: 

Apply generously on your skin, preferably after bathing. Massage gently, for total absorption.