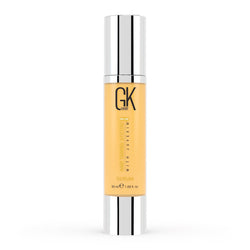 GKhair Serum is a weightless hair oil that instantly repairs dull and dry hair into beautifully smooth and frizz-free hair. It is the best argan oil hair serum that smooths out any flyaways while delivering shine. Infused with ARGAN OIL and JUVEXIN a keratin anti-aging protein blend for the hair, this oil for frizzy hair nourishes and fortifies hair with extra moisture while protecting hair from dryness and damage. Buy now GKhair best argan oil Hair Serum to control frizz and add healthy shine to hair.  
INGREDIENTS
JUVEXIN: A keratin anti-aging protein blend optimized for restoring hair from the inside out, returning it to a more youthful state. Protects against future damage and environmental effects by creating a shield over each hair strand.
NATURAL SILICONES: Seal the hair and protect against dehydration.
ARGAN OIL: Natural oil from Moroccan argan tree; seals and protects against dehydration.  
FEATURES
Nourishes and fortifies the hair with JUVEXIN
BENEFITS
Instantly fights frizz
Immediately sedates flyaways
Delivers a shine dosage
HOW TO USE
After using GKhair Shampoo and Conditioner, pump into hands and smooth through mid-lengths to ends of dry or damp hair.
Feel the smooth soft results instantly as flyaways and frizz disappear.
Style as desired feeling frizz-free and confident.