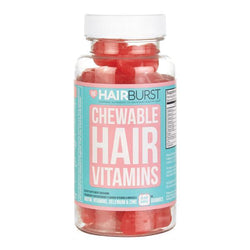 The new tasty way to grow your hair...
Heart Shaped Strawberry & Blackcurrant Flavoured vitamins.
Gummy Texture - completely chewable.
Contains the vital ingredients for hair growth.
Biotin, Selenium, Zinc, B5, B6 & B12.
Increase hair strength & elasticity.
Reduce hair breakage.
What Else
Hairburst Chewable Hair Vitamins are an easy way to ensure you are taking the essential vitamins to maintain healthy, faster hair growth. We created this product for people who find it hard to swallow tablets. So now everyone can have the benefits that hairburst adds to your body. The yummy strawberry and blackcurrant flavour will want you taking more than just 2 tablets per day but please stick to the recommended 2 per day.
Hairburst provides a different approach to hair maintenance, a professional product that works from the inside out. The tasty new way to improve your hair.
Hairburst is designed to combat the negative impact of poor nutrition, hair products, age and genetics so start your journey with hairburst today and fall in love with your hair.
Food Supplement Containing:
Biotin
Selenium
Zinc
Vitamin B12
Pantothenic Acid
Free From: Artificial colours, milk, lactose, yeast, porcine. Gluten Free, Dairy Free, Soy Free, GMO Free, Nut Free, No Trans Fats & only 2.4g of sugar per serving (2 hearts)
Contains: Bovine Gelatin Of Cow Source
طريقة شهية جديدة لنمو شعرك ...
- فيتامينات على شكل قلوب بطعم الفراولة والكشمش الأسود.
- حبوب قابلة للمضغ – يمكن مضغها بالكامل.
- يحتوي على المكونات الأساسية لنمو الشعر.
- يحتوي على البيوتين والسيلينيوم والزنك وفيتامينات ب5، ب6، و ب12.
- يعزز من قوة الشعر ومرونته.
- يقلل من تقصف الشعر.
ماذا أيضاً؟
تعدّ هذه الفيتامينات طريقة سهلة للتأكد من أخذ الفيتامينات الضرورية للحفاظ على صحة وسرعة نمو الشعر. تم تصميم هذا المنتج للأشخاص الذين يجدون صعوبة في ابتلاع الأقراص. لذا، يمكن الآن للجميع من الحصول على الفوائد العديدة التي يضيفها هيربرست للجسم. ستجعلك النكهة اللذيذة من الفراولة والكشمش الأسود بالرغبة في تناول أكثر من قرصين فقط في اليوم الواحد، ولكن يجب الالتزام بالحبات الموصى بها يومياً.
يوفر هيربرست نهجاً مختلفاً لتقوية الشعر، فهو منتج فعّال يعمل على تقوية الشعر من الداخل للخارج، وهو الطريقة الشهية الجديدة لتحسين شعرك.
تم تصميم هيربرست لمكافحة التأثير السلبي لسوء التغذية ومنتجات الشعر والشيخوخة والوراثة على الشعر، لذا يمكنك بدء رحلتك مع هيربرست اليوم للحصول على أفضل النتائج التي ترضيك.
مكمّل غذائي يحتوي على:
- البيوتين
- السيلينيوم
- الزنك
- فيتامين ب12
- حمض البانتوثنيك
خالٍ من: الألوان الصناعية، الحليب، اللاكتوز، الخميرة، والخنزير. خالٍ من الغلوتين، خالٍ من منتجات الألبان، خالٍ من الصويا، خالٍ من المكونات المعدلة وراثياً، خالٍ من المكسرات، بدون دهون محولة و 2.4 غرام فقط من السكر لكل وجبة (حبتين).
يحتوي على: جيلاتين بقري المصدر