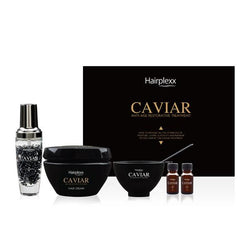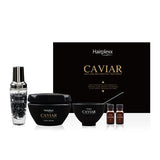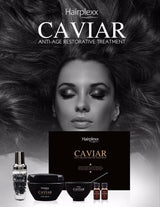 Hairplexx Luxury Caviar Hair Treatment Kit
This Caviar Anti-age Restorative Treatment Line, contains Caviar which was rich in essential amino acids, protein, fatty acid, trace elements and iodine, balancing mechanism for the restoration of hair.
It improve hair structure, instantly repair hair, recover hair toughness, constantly nourish hair, also repair hair cuticle to make hair soft and strong.
KIT CONTAINS:
– Hairplexx CAVIAR SERUM 50ML
– Hairplexx CAVIAR HAIR CREAM 280ML
– Hairplexx CAVIAR HAIR OIL 10ML*2
الميزات الأساسية
يحتوي على الكافيار الغني بالأحماض الأمينية الأساسية والبروتين والأحماض الدهنية وعناصر التتبع والأيودين وآلية التوازن لاستعادة الشعر
يعمل على تقوية الشعر
يستعيد قوة الشعر ويمنحه تغذية مستمرة
Clean hair with professional shampoo, blow dry.
Press 2-3 drops of hair Oil onto palm, and spreads out. Apply onto hair end gently for good absorption. No need to rinse. Style as usual.
Mix 50ml caviar hair mask cream with 10ml caviar serum, for better result, you can add 2-4 drops caviar hair oil in to the mixture, then evenly extend the mixture cream onto hair, heat hair for 15-25 minutes with steam after covering with fresh-keeping mask, cool hair for 5 minutes and then blow dry with cold wind.
Using once per week.
Hairplexx Caviar HAIR OIL can also be used in dry hair for repair; Or for colored hair to make hair color shiny
 علاج الشعر بالكافيار لاصلاح وترميم الشعر التاف والجاف ، ويحتوي على الكافيار المادة الغنية في الأحماض الأمينية الأساسية، البروتين، الأحماض الدهنية، والعناصر النزرة واليود، وتحقيق التوازن في الية استعادة صحة الشعر.
والعمل على تحسين هيكل الشعر، و إصلاح الشعر فورا، واستعادة صلابة الشعر، وتغذي باستمرار الشعر، وأيضا إصلاح الطبقة الخارجية للشعر لجعل الشعر ناعم وقوي
استخدمي الشامبو لتنظيف الشعر جيدا ثم جففي شعرك باستخدام مجفف الشعر السشوار
امزجي 50 مل ماسك الكافيار مع 10مل من سيروم الكافيار(مع الحبات السوداء) ولنتيجة افضل اضيفي 4قطرات من زيت الكافيار أيضا ثم امزجي جيدا
ضعي المزيج على كامل الشعر بالتساوي ثم استخدمي بخار الشعر (في حال تواجده) او اتركيه لمدة 25 دقيقة
ثم اغسلي شعرك وجففيه بحرارة متوسطة
ينصح باستخدامه مرة في الأسبوع