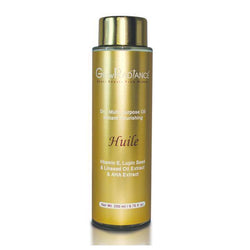 This indulgent treatment doesn't just deliver exceptional results, it also speaks luxury when placed on your bathroom shelf. Huile is the ultimate in multi-purpose oils. In a single gesture, its unique combination of vitamins and plant oils will nourish, repair and soften your face, hair and body – leaving you oil-free, smooth and radiant from top to toe.
Minimizes visible fine lines and wrinkles
Provides skin-softening effects and ultimate hydration
Contains vitamin E, lupin seed and linseed oil extract, and AHA extract
لا تقدم هذه المعالجة الفعّالة نتائج استثنائية فحسب، بل هي أيضاً من المنتجات الفخمة التي يمكن الحصول عليها، فهي الأفضل ضمن الزيوت متعددة الأغراض. من استخدام واحد، سوف تعمل تركيبتها المميزة من الفيتامينات والزيوت النباتية على تغذية وتنعيم وجهك وشعرك وجسمك - مما يجعلك تشعرين بالنعومة والإشراق من أعلى إلى أخمص القدمين.
يقلل من التجاعيد والخطوط الدقيقة
يعمل على تنعيم وترطيب البشرة
يحتوي على فيتامين إي وبذور الترمس وزيت بذر الكتان وخلاصة حمض ألفا-هيدروكسي
Apply to the face and body, every morning or evening.
يستخدم على الوجه والجسم كل صباح أو مساء.