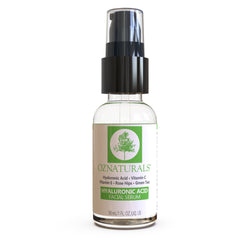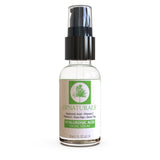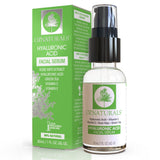 Botanically derived Hyaluronic Acid mixed with the brightening power of Vitamin C, this facial serum not only hydrates and plumps the skin, but also works to rejuvenate and protect skin cells, leaving the skin plump and dewy, brighter and silky soft.
Key Ingredients:

 

Hyaluronic Acid, Vitamin C, Vitamin E, Rose Hips Extract, Green Tea
98% Natural
Dewy, youthful skin begins with the highest quality Hyaluronic Acid serum on the market. Hyaluronic Acid is known as a "nature's moisture magnet" because it can hold up to 1, 000 times its weight in moisture. OZNaturals® best-selling Hyaluronic Acid Serum combines this extraordinary ingredient with other superstars such as Vitamin C, Vitamin E, Rose Hips and Green Tea to deliver a surge of moisture-loving nutrients deep into skin's layers.
Beneficial for any skin type, this serum:
• Assists in naturally balancing skin moisture levels
• Helps diminish the appearance surface lines and wrinkles
• Naturally lifts and firms sagging skin
• Restores the texture and appearance of young-looking skin
• Plumps and hydrates dry, dull skin delivering a dewier, moisture-rich complexion
OZNaturals Hyaluronic Acid Serum may be used daily and is appropriate for all skin types. Apply a thin layer, enough to lightly cover the skin. This anti-aging serum is most effective when used in conjunction with an OZNaturals moisturizer. Regular exfoliation with OZNaturals Ancient Orient Bamboo Dermafoliant will improve serum absorption and performance. It can be worn under makeup.
STEP 1 : Cleanse, exfoliate, and tone skin.

STEP 2 : 

Apply Hyaluronic Acid Serum to entire face, neck and décolleté, and allow to absorb for several minutes.

STEP 3 : Apply OZNaturals® moisturizer.