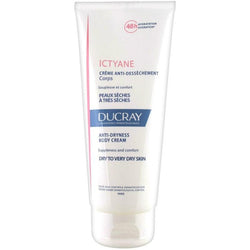 Ictyane Anti-Dryness Body Cream 200Ml
Ictyane Anti-Dryness Body Cream is an extra-gentle shower gel suitable for the entire family, due to its delicate formula that doesn't sting the eyes. Enriched with glycerin and safflower seed oil, two ingredients that help maintain the moisture levels of the skin and preserve its integrity against external aggressions, this shower gel is ideal to cleanse and protect normal to dry skin types, without disturbing the natural balance of the skin.
Glycerin draws moisture from the air around and binds it to the skin, keeping it moisturized and shielded from environmental sources of irritation;
Safflower seed oil helps maintain the integrity of the outer layer of the skin, preventing flaking and cracking.
Apply Ducray Ictyane Soft Shower Cream to damp skin and massage gently to create a lather. Rinse thoroughly. May be used daily.