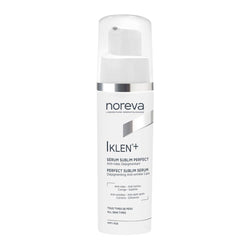 Iklen+ Dark sport Corrector Serum
Noreva Iklen+ Perfect Sublim Serum is a hyperpigmentation treatment that has 89% improvement in people with melasma. This serum is rich in active ingredients with anti-hyperpigmentation and anti-aging action. The skin becomes even and protected against oxidative stress, even in situations of lentigo, melasma, hormonal pigmentation and acne scars.
Characteristics
Noreva Iklen+ Perfect Sublim Serum Depigmenting Anti-Wrinkle Care 30ml has the following characteristics:
WO Patent based on andrographolide, glabridin, melanostatin and lysine azelate helps reduce melanin synthesis and induction, in order to prevent future spots
How to use
Apply Noreva Iklen+ Perfect Sublim Serum in the morning and/or evening on the face and neck after cleansing. Use for at least 8 weeks.