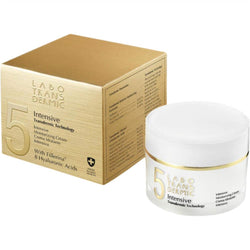 Intensive Moisturizing Cream
Some treatment needs are universal, i.e. hydration, nourishment, rebalancing of the skin. Normal skin has to maintain the right balance and receive the essential moisturizing substances. Loss of water and insufficient production of sebum are typical characteristics of very dry skin, which therefore needs specific nourishment. On the contrary, excessive production of sebum needs a rebalancing and mattifying treatment for combination, oily skin with dilated pores. Intensive Moisturizing Transdermic Care for Normal to Dry Skin. Panthenol with its marked humectant properties has a softening and moisturizing effect on the skin; Niacinamide increases the production of ceramides to hinder the water loss of the skin; Acetyl Hexapeptide-37 helps the transfer of water molecules to the skin cells. 
Use morning and/or evening.
To be used alone or after the Intensive Ultra Moisturizing Serum.