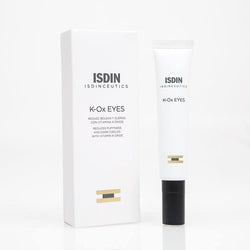 Get a fresh look for your eyes.
A complete eye contour solution with three ingredients that reduce the appearance of puffiness and dark circles resulting in a fresh look.
Enhances tone and brightens the appearence of the delicate eye area.
With Vitamin K Oxide, Haloxyl™ and Eyeliss™.
Size:15 ml
Use the special pump to apply the equivalent of a pea on your fingertip. Slightly warm the product by rubbing it between your fingertips.
Apply onto the eye-contour with light touches, as shown in the drawing, carefully massaging the eye area. Start on the crow´s feet area, extending the product with outward movements, as shown in the drawing.