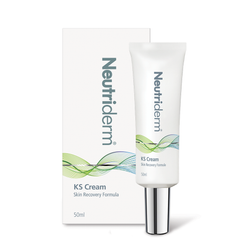 Clinically proven to help repair skin damage and scars caused by acne, injury, surgery, pregnancy and c-sections. Tested, used and recommended by dermatologists for the management of scars
Heal and protect your skin with the KS Cream for advanced scar repair. Enriched with natural ingredients, it is formulated to reduce the appearance of keloid and surgical scars. Designed for long-lasting results and to bring restoring and firming benefits to the skin.

Apply at the centre and massage towards edges and into the skin. Next, massage in a small circular motion until cream is absorbed.