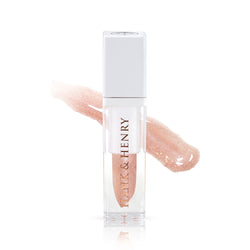 Lip Lustre Gloss Your Mom
#LipLustreGloss is scented with spearmint, infused with both Vitamin E & Honeysuckle Flower Extract, and contain the same effect pigments used in our Lustre Lights loose pearls formula. 
The dazzling effect of the effect pigments is designed to wear over a lipstick or as a stand-alone gloss while keeping your lips moisturized and pampered all day long making this non-sticky formula perfect for those on-the-go.
Directions: Designed to be worn by itself as a wearable sparkle that is lightly pigmented in color but intensely glimmers in light with a high shine. The gloss also has a suction attached inside to prevent a lot of product coming out and being wasted. So for a full application of intense sparkle a few pumps/layers may be required. Lip Lustre Gloss can also be worn over you favorite cream lipstick, liquid lipstick, or lip liner.
Formula Attributes:
Vegan formula
Cruelty-free
Phthalates-free
Gluten-free
Contains non-comedogenic ingredients
Paraben-free
lip nourishing
Anti-aging properties
Highest grade effects pigments
non-sticky