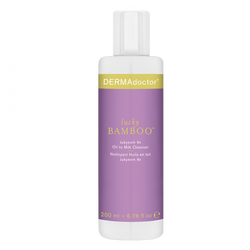 Lucky Bamboo Oil To Milk Cleanser
This soap-free, pH-balanced formula features electrolyte, mineral and antioxidant rich K-Beauty cosmeceutical, Jukyeom 9x. Jojoba seed and orange peel oils gently lift away impurities and remove makeup without drying out the skin. Mother of pearl extract helps create a brightening, luminous finish, leaving complexion feeling soft, silky and radiant.

Jukyeom 9x - Contains a powerful blend of electrolytes, minerals and antioxidants that are essential for skin health and wellness
Jojoba Seed Oil- Calms and soothes the skin
Orange Peel Oil- Contains antiseptic and anti-aging benefits
Mother of Pearl Extract- Helps to brighten the skin
How to use:
Apply to dry skin. Apply warm water and rub gently in a circular motion. Oil will change to a milky consistency.