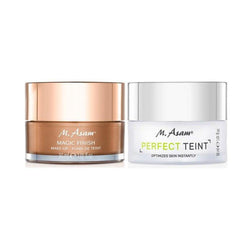 Magic Finish & Perfect Teint Makeup Set
Magic Finish
We could all use a little magic in our lives. Give the illusion of a flawless complexion without having to dig out the ol' magic wand. This makeup blends beautifully into your skin, reducing the look of wrinkles and other imperfections faster than you can say "Abracadabra!"
Lightweight, wrinkle-filling makeup mousse
Instantly and temporarily provides a light, matte, natural-looking finish
Provides light to medium or full coverage depending on application
Reduces the appearance of small wrinkles, enlarged pores, redness and other imperfections
Conceals uneven skin tone
Offers a flawless, radiant, healthy, sun-kissed appearance
No need for powder
Silky Texture:
Blends beautifully into your skin
Helps leave skin feeling silky and smooth
More Features
Contains the light vanilla fragrance
Suitable for most skin types
Lasts up to 3-6 months, depending on coverage
Made in Germany
يمكننا جميعاً استخدام القليل من السحر في حياتنا. احصلي على بشرة خالية من العيوب دون الحاجة إلى الحصول على عصا سحرية. يُمزج هذا المكياج بشكل جميل في بشرتك، مما يقلل من مظهر التجاعيد والعيوب الأخرى بأقصى سرعة ممكنة.
موس خفيف يملأ التجاعيد
- يوفر مظهراً خفيفاً وطبيعياً وغير لامع على الفور وبشكل مؤقت.
- يوفر تغطية خفيفة إلى متوسطة أو كاملة اعتماداً على الاستخدام.
- يقلل من ظهور التجاعيد الصغيرة، والمسام الواسعة، والاحمرار وغيرها من العيوب.
- يخفي عدم توحد لون البشرة.
- يوفر مظهراً خالياً من العيوب وصحياً ومشرقاً.
- لا حاجة لمساحيق التجميل.
حريري الملمس:
- يُمزج بشكل جميل في بشرتك.
- يساعد على ترك البشرة تشعر بالنعومة والسلاسة.
المزيد من الميّزات:
- يحتوي على رائحة الفانيليا الخفيفة.
- ملائم لمعظم أنواع البشرة.
- يستمر حتى 3-6 أشهر، حسب التغطية.
صُنِع في ألمانيا
Cyclopentasiloxane, Isododecane, Dimethicone Crosspolymer, Dimethicone, Dimethicone/Vinyl Dimethicone Crosspolymer, Dimethiconol, Cyclohexasiloxane, Tocopheryl Acetate, Parfum (Fragrance), Silica, Isoceteth-10, CI 77491 (Iron Oxides), CI 77492 (Iron Oxides), CI 77499 (Iron Oxides), CI 77891 (Titanium Dioxide).
Perfect Teint
Is your complexion looking slightly less than flawless? Practice a little dermal deception with this instant wrinkle filler with skin care benefits. You'll love how it helps your skin look smooth like satin, giving you a more radiant complexion and a younger look.
Immediately and temporarily smoothes away the look of lines and wrinkles

Open pores and imperfections optically disappear with perfect coverage

Controls shine, giving a matte finish
هل تبدو بشترك قريبة من أن تكون بشرة خالية من العيوب؟ قومي بالقليل من الخدع الجلدية من خلال هذا الفيلر الفوري للتجاعيد مع فوائد العناية بالبشرة. سوف يعجبك كيف يساعد بشرتك لتبدو ناعمة كالحرير، مما يمنحك بشرة أكثر إشراقاً وإطلالة أصغر عمراً.
- ينعم مظهر الخطوط والتجاعيد على الفور وبشكل مؤقت.ستلاحظين الفرق من أول استخدام بنسبة 36%
- تختفي المسام المفتوحة وعيوب البشرة مع تغطية مثالية.
- يتحكم في التألق، مما يعطي لمسة غير لامعة.
Let your moisturiser fully absorb

Apply your make-up, then follow with Perfect Teint

You can also use Perfect Teint as a make-up base instead of foundation

Apply a tiny amount directly onto fine lines, pores and imperfections, or in a thin veil over your entire face

Make sure you gently pat Perfect Teint into your skin, rather than rubbing

You can also apply Perfect Teint to your neck and decollete