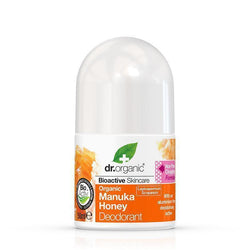 Manuka Honey Deodorant 50Ml
A roll-on purifying liquid deodorant cream, which provides a number of skin care benefits. Suitable for use on sensitive skin, this formula is made from certified organic manuka honey and blended with aloe vera, sunflower oil, Irish and Irish moss and vitamin E.

This natural deodorant provides protection and freshness throughout the day and is ideal for daily use.

Suitable for vegetarians.

How to use:

   Shake well, apply as needed.

   Allow product to dry before dressing.