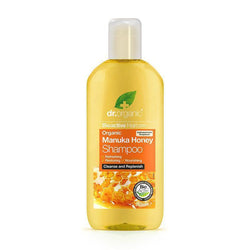 Manuka Honey Shampoo 265 ml
A restorative and protective shampoo formulated with Organic Manuka Honey and Aloe Vera. This rich moisturizing shampoo penetrates deeply into the hair fibers to restore flexibility.

Repairing, calming and nourishing the roots and scalp and adding a healthy shine to the hair, leaving it soft and silky, regenerated and fully manageable.

Suitable for frequent use in most hair types.

How to use:

   • Shampoo massage on wet hair.

   • Rinse and repeat as necessary. / Avoid eye contact.

   • For best results, continue with the Dr. Organic Manuka honey conditioner.