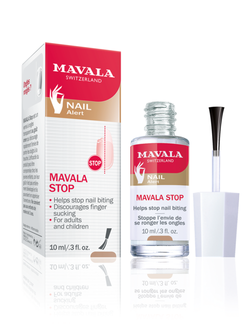 Nail biting is a nervous habit, which can rapidly become uncontrollable.

MAVALA STOP has a bitter yet harmless taste and the appearance of clear enamel. Helps break the nail biting habit and thumb sucking. Works for children (more than 3 years old) and adults. To use without or over your nail polish. Also recommended for children but not under the age of 3, as their taste buds are not fully developed and they might get used to the bitter taste.
Apply a coat over the entire nail (or polish) and allow to dry. Repeat the application every two days. Continue the treatment until nail biting is ended. Of course, before each re-application, remove the previous coat of Mavala Stop with a Nail Polish Remover.
Ingredient which releases an unpleasant bitter taste when in contact with saliva.
Free from formaldehyde, phthalates, sodium laureth sulfate, paraben and fragrance.