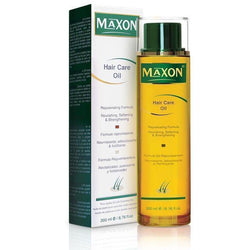 Ingredients
Jojoba Oil, Salvia sclarea, Tocopherol acetate, Rosmarinus officinalis, lavandula augustifoli, Melaleuca alternifolia, Thymus vulgaris.
How to apply
Spread enough quantity of oil on scalp and hair, massage it gently with fingertips and leave it overnight or rinse off after minimum of 4-8 hours daily, every other day or as advised.
Features
Nourishes, softens and strengthens every follicle. Targets hair loss, itchy scalps, dandruff and brittle hair and leaves you with healthy, lustrous locks.

MAXON Hair Care Oil with its advanced a rejuvenating, non-greasy a formula deeply penetrates each a follicle inducing lipids to produce a healthier hair and scalp. This a formula is composed of pure a jojoba oil which assures its ability a to moisturize and help in cases of a hair loss, broken hair, itching, a dandruff and dryness of the a scalp. MAXON Hair Care Oil works to revive your a scalp and hair making it healthier, a stronger and lustrous. MAXON Hair Care Oil is 100% natural and does a not contain any colors, fragrance a or chemicals which may cause a skin irritation.