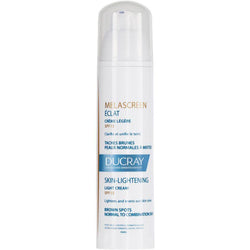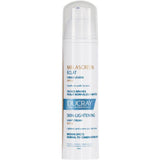 Melascreen Eclat Light Cream Spf15 40Ml
Ducray Melascreen Eclat Light Cream SPF15 is a gentle photoprotective cream suitable for normal to combination skin types. This formula, rich in antioxidants and infused with a delicate fragrance, evens out and lightens the skin tone, especially in cases of uneven pigmentation. The skin regains its radiance and homogeneity, according to 80% of clinical trial volunteers. This cream is also ideal for use as a make-up primer, due to the inclusion of mattifying and absorbent powders that lend the skin a velvety finish.
Niacinamide, also known as vitamin B3, visibly improves the appearance of enlarged pores, uneven skin tone, fine lines, dullness, and a weakened skin surface;
Ascorbyl glucoside, a stable form of vitamin C combined with glucose, functions as an antioxidant to help the skin look smoother, brighter, and younger.
Apply Ducray Melascreen Eclat Light Cream SPF15 onto the entire face, neck and back of the hands. Avoid contact with the eyes. In the case of intense exposure to sunlight, combine with a product with greater SPF.