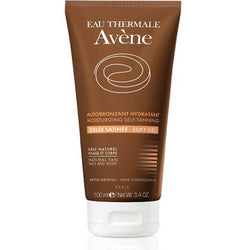 Moisturizing Self-Tanning Lotion
Moisturizing self-tanning.
Silky gel.
Natural tan face and body.
Suitable for sensitive skin.
Hypoallergenic, non-comedogenic.
Avène Moisturizing Self-Tanning Silky Gel 100ml is a self-tanning care and moisturizing which applies both on the face and the body, specially formulated for sensitive skins. This silky gel provides you 

a

 progressive, luminous and natural tanned effect without sun exposure. It offers you a gradual tan but also moisturizes the superior layers of the epidermis for an optimal moisturizing.
Apply a thin layer evenly over clean, dry face and/or body. To obtain an even, long-lasting tan, daily application is recommended. The intensity and duration of the color obtained depends on the quantity used and frequency of application. It is recommended to wash your hands thoroughly after applying the Moisturizing Self-tanning Lotion. Wait twenty minutes before wearing clothes, swimming or washingtreated areas.