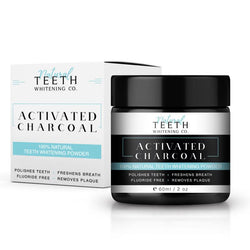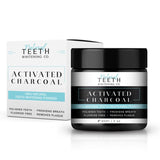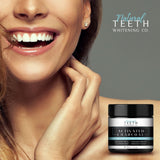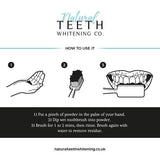 Natural Teeth Whitening 50 G - 16 Day Treatment
100% Natural Activated Charcoal Powder
Natural Teeth Whitening powder helps to remove stains and discolouration from the surface of your teeth allowing you to smile with confidence. It's 100% natural & vegan friendly. No additives, or any other preservatives.
Our whitening polish is made with the finest finely ground food grade activated charcoal, ideal for dental use and non-abrasive. Calcium Carbonate powder supports the charcoal's work, absorbing heavy metals and delivering vital minerals, while the organic peppermint helps soothe, fight bacteria, reduce inflammation and adds a fresh smooth finish. This product is suitable for even those with sensitive teeth and gums. It can be used as often as needed to achieve desired results.
If you have any Oral health issues like sensitive teeth, irritated or bleeding gums then please consult your dentist prior to using this product. If you suffer from any type of gum irritation or sensitive teeth/gums, or have a history of gum infection please consult your dentist prior to use.
Put a pinch of powder in the palm of your hand and dip a wet toothbrush into powder. Brush teeth for one to two minutes, then rinse. Brush again with water to remove residue. Use twice daily for best results.
HOW DOES IT WORK?
Natural Teeth Whitening contains 100% natural activated charcoal that actively removes surface stains from your teeth while fighting toxins and bacteria from your mouth leaving you with a clean, fresh feeling.
HOW LONG SHOULD I BRUSH MY TEETH FOR?
We recommend brushing your teeth as usual, in circular motion for approximately 2-3 minutes. Let sit in your mouth for a few minutes after brushing for optimum results.
HOW MUCH SHOULD I USE?
Enough to cover the top of your toothbrush, much like toothpaste.
HOW OFTEN CAN I USE ACTIVATED CHARCOAL?
For optimum results, you should use the product twice per day until desired results are met.
HOW SOON CAN I SEE RESULTS?
Results can vary depending on people, however, you should see noticeable results after one week of regular use.
IS IT SAFE TO USE ON SENSITIVE TEETH/GUMS?
Natural Teeth Whitening is absolutely safe to use on sensitive gums and teeth however if you suffer from any oral health issues we recommend you get advice from your dentist prior to use.
Calcium Carbonate Powder, Calcium Carbonate DC, Activated Charcoal, Peppermint Flavour, Peppermint Powder, Sodium Chloride, Ginger Root Extract 20:1.