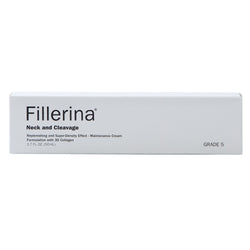 Neck and Cleavage Maintenance Cream- Grade 5
Maintain the results of your Fillerina treatments with the nourishing and replenishing Neck and Cleavage Cream.
Formulated with the same eight types of Hyaluronic Acid and 3D Collagen, this daily neck cream amplifies the firming and tightening effects of Fillerina's topical Replenishing Gel by softening deep wrinkles and furrows on the delicate neck and decolletage.
This amazing neck cream can be used as continuous maintenance for the neck and cleavage area.
GRADE 5 is for Circular wrinkles and very deep furrows on neck and cleavage. As well as severe relaxation and sagging of the skin