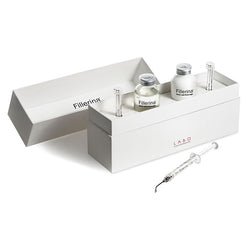 Neck and Cleavage Replenishing Treatment Kit Grade 5
Visibly rejuvenates the delicate skin of the neck and décolletage for a tighter, more youthful appearance.
8 Different types of Hyaluronic Acid plumps and deeply hydrates to soften wrinkles.

3 forms of Collagen to recover the skin's former smoothness and help rebuild the skin's structure.

Firms, tightens and leaves skin soft and nourished. Especially on the Crepey Areas.

Helps to soften Skin Damage.
How to use:
Fillerina Neck and Cleavage Gel + Nourishing Film shall be applied for 14 consecutive days. Apply 2 ml. of the gel to the wrinkle areas with the applicator directly on wrinkles.

Apply a thin mask of the gel on crepey patches of the neck and to larger areas of the Chest area by spreading gently with the fingers. Do not rub in. Let the gel penetrate for 10 minutes and then push in with your fingertips. Apply Step 2 Nourishing Film over the entire areas. Do not skip this step as this cream not only seals in the gel molecules but has important tightening ingredients inside for full results.

The product shall be applied in the evening. Open the gel bottle by removing the metal seal and 

the rubber cap. Repeat the application every evening for 14 days.

Recommendations: a deep cleansing on neck and cleavage areas should be done in order to facilitate the 

perfect absorption of the active molecules. To facilitate the use of the product, it is advisable to drink two 

glasses of water before the application of Fillerina Gel.

Applications should be repeated every 2-3 months.