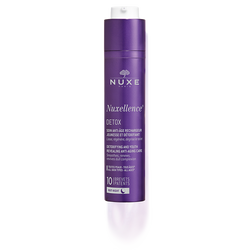 Detoxifying and youth revealing anti-ageing night care
For all skin types and all ages**
Contains 92.2 % natural origin ingredients
Nuxellence Detox by NUXE is an innovative anti-ageing treatment that uses 10 patents to recharge your skin and detoxify cells overnight. Suitable for all skin types and ages, the nightly detox helps to promote cell renewal, allowing you to wake up every morning with a refreshed, youthful glow!
Packed with natural ingredients (including passionflower, poppy and silk tree), Nuxellence Detox helps to smooth wrinkles, plump skin and brighten your complexion. Its secret power lies in repairing your skin's mitochondrial DNA, the DNA that's responsible for the energy supply in cells. This will regenerate your skin and improve its radiance within no time!
BEAUTY TIPS
Apply Nuxellence® DÉTOX in the evening, on its own or before your usual night cream.

As an ideal DAY partner in an excellent anti-aging program, apply Nuxellence® Éclat to reveal your skin's youth and create a brightening effect.


FORMULA
Natural ingredients, including passionflower, anchusa, poppy and silk tree.
Non-comedogenic