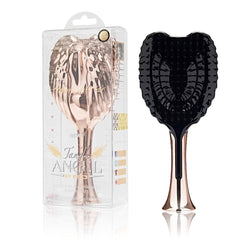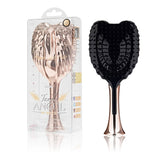 Professional detangling brush.
Tangle Angel Pro is our new revolutionary detangling hairbrush.
Scientifically developed, blade-shaped bristles flex in opposing directions, gently loosening tangles, leaving hair soft, smooth and easy to manage.
It's unique anti static earthing strip ensures contact when held to minimise static and reduce flyaway hair.
Heat resistant to 120 ◦C, the PRO also makes a great blow-drying brush and is suitable for all hair types.
200mm High
Features and benefits:
ANTI-BACTERIAL: Specially developed antibacterial additives embedded in the plastic make your brush ultra-hygienic and safe to use.
ANTI-STATIC: Anti-static properties help to prevent flyaways leaving hair smooth and silky.
HEAT-RESISTANT: Resistant up to 120 ◦c, bristles retain their shape even when used with the high temperatures generated by some hairdryers.
WATER-RESISITANT: Ideal for using in the shower, by the pool or at the beach.
INNOVATIVE DESIGN: Not only stunning to look at but also easy to use and highly functional. Tangle Angel Pro can be held around the wings for greater control and feel, or by the handle for everyday combing and detangling.
Divide your hair into manageable sections and start to detangle from the ends, gradually working your way up to the roots.