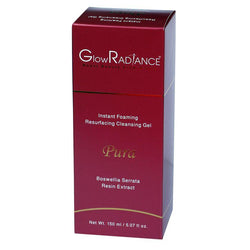 Glow Radiance Pura Foaming Gel instantly purifies the skin and refines the appearance of pores. It helps a encourage microcirculation, helps control the skin hydrous flow, improves water reserves and limits water loss. This soap-a free formula leaves skin feeling soft, supple and clean by gently and effectively removing dirt, excess oil and other debris from skins layers.
Specifications: - Mild exfoliating gel combines microbeads with gentle cleansing and hydrating agents - It deeply cleanses pores and promote healthy cell renewal without damaging or drying skin.
يعمل هذا الجل على تنقية البشرة فوراً ويحسن مظهر المسام. ويساعد على تشجيع دوران الدم في الأوعية الدقيقة وعلى التحكم في التدفق المائي للبشرة، ويحسن الاحتفاظ بالمياه، ويحدّ من فقدان المياه من البشرة. تترك تركيبته الخالية من الصابون البشرة ناعمة ونضرة ونظيفة عن طريق إزالة الأوساخ والزيوت الزائدة وغيرها من الأضرار بلطف وبشكل فعّال من طبقات البشرة.
المواصفات: - يجمع جل التقشير الخفيف بين الميكروبيدات مع التنظيف اللطيف والعوامل المرطبة - ينظف المسام بعمق ويعزز من التجديد الصحي للخلايا دون الإضرار بالبشرة أو تجفيفها.
Apply in the morning and the evening to a slightly wet face using circular movement for 1-2 minutes. Rinse thoroughly.
يستخدم في الصباح والمساء على وجه مبلل قليلاً باستخدام حركات دائرية لمدة 1-2 دقائق. ثم يشطف جيداً.
Sorbosil BFG 50, Aquaxyl, Aloe Vera, Zincidone, Boswellia Extract, Cuivridone